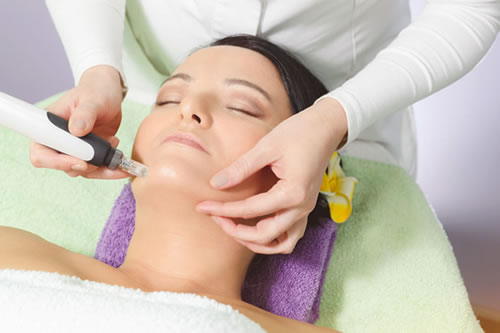 Skin needling is administering controlled injury to the skin to induce collagen production. When causing the right form of injury, the dermis reacts to the trauma by repairing itself, generating new collagen & elastin, resulting in a rejuvenated appearance. Also known as microneedling, collagen induction therapy, dermal needling or percutaneous collagen induction
Mesotherapy is a treatment that introduces microscopic quantities of products into the skin to treat a variety of conditions
COST
Training only: £555, including booking fee of £215
You will need to bring your own pen needling device + needles and mesotherapy
To perform this treatment you will also need:

Cleanser, Toner, Moisturiser, SPF
Skin steriliser, Clinell Wipes (or similar), Patient packs, Degreaser or Fusion HA Peel, Sterile drawing up needles & syringes, Pen sleeves, Sterile mesotherapy solutions, Yellow sharps bin
Pre-Requisites: Facial qualification and practical experience
Course Length: 1 day
What is Skin Needling?
A very simple skin regenerative treatment which improves and rejuvenates the skin. It is also called skin needling, micro-needling, collagen induction therapy. It is a minimally-invasive non-surgical and non-ablative procedure for facial rejuvenation that involves the use of a micro-needling device to create controlled skin injury.
As each fine needle punctures the skin, it creates a channel or micro-wound. The controlled injury triggers the body to fill these micro-wounds by producing new collagen and elastin in the papillary dermis. In addition, new capillaries are formed. This neo-vascularisation and neo-collagenases following treatment leads to reduction of scars and skin rejuvenation, i.e. improved skin texture, firmness and hydration.
Pen Needling is effective at:
Improving fine lines and deep wrinkles
Skin tightening, lifting and rejuvenation
Increasing the epidermis by up to 40%; resulting in a fresher look
Improving acne scars and wound healing
Improving skin texture, tone and colour
Improving pigmentation
Minimising pore size
Fading stretch marks
Improving collagen-elastin structure
Normalising TEWL and moisture retention in scars
Stimulating development of new blood vessels
Course Content & Learning Outcomes:
Dermatology Basics

Structure & Function of the Skin
Barrier Function of the Skin
Skin Ageing
Wound Healing
Cicatrisation

The Science of Needling

History
Would Healing
Dermal Remodelling
Epidermal Thickness
Dyspigmentation
Skin Regeneration

The Science of Mesotherapy
Health & Safety
Ageing of the Skin
Dermal Needling: The Process
Client Consultations & Documentation

Clarifying Expectations
Examaination & Findings
Contraindications
Informed Consent
Photographs: Set-Up/Taking photos
Scientific Instruments

Fractional Mesotherapy: What it is & Benefits
Treatment Techniques
Mesotherapy Solutions: What to look for
Trolley Set-Up
Treatment Protocol
Needle depth by Treatment Objection
Aftercare Advice
Frequency of Treatments
Cleansing & Storage
Course Structure:
Home Study (3 days guided learning)
1 day practical
3 case studies
Awarding Body: ThinkTree
CPD Points: 10
Venues:
We can offer this course to qualified and knowledgeable facialists via live Zoom.
Or face to face, the course is available at:
Northern Ireland (Derry)
Nottinghamshire (Newark)
Tyne & Wear (Sunderland)
Warwickshire (Straford upon Avon)
Yorkshire (Wakefield)
SPAIN (nr Albox, Almeria)
In-house training available