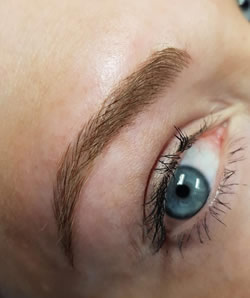 Microblading eyebrows is a form of permanent makeup. It is known by many names, including brow embroidery, blading, feather stroke brows etc. Microblading creates natural beautiful brows with a handheld tool consisting of a blade and a hand piece.
It is perfect for all clients, whether they have overplucked or just want to add definition. Microblading, due to its natural look is perfect for all ages from 18 years+.
Cost: £2,000, including starter kit and 3 practical days of training. This price includes booking fee of £600, inclusive of VAT, with the remaining due 14 days prior to the course (paid direct to your trainer)
Pre-Requisites: None but there is some pre-practical work so we can see how well you can adapt to microblading without parting with your money.
Course Length: 6 days
Course Content & Learning Outcomes
History
Benefits
Durability
Treatment room set-up

Work area
Equipment needed
Sterilisation and disinfecting
Hand washing - no touch technique

Legislation Requirements

Special treatment license
Guidance documents
Risk assessment
Special waste disposal
First aid
Insurance

Relevant A&P

Skin types
Skin disorders
Wound healing process

Skin tones & Colour Theory
Pigments
Pain control
Consultations
Equipment and blades
Treatment protocol
Course Structure:
Home Study (2 days guided learning)
3 days practical
6 Case Studies
1final assessment
Awarding Body: Towergate
Starter kit including in course fee contains:
Flex curve Blades (12s) x10
Hand piece x10
Pigment Rings x10
Micro brushes x20
Callipers x1
Eyebrow pencils: brown and white
Normasol Saline x10
Wound care packs x10 (Gauze, sterile trolley pack, orange waste bag, gloves)
Face masks x10
Clinell clinical wipes x1 pack
Aftercare product: Vaseline x1 (We find Vaseline + sterile wiping every hour 24 hours after the treatment to remove lymph build-up is best. Potentially avoids scabbing and provides best colour retention)
Disposable plastic aprons x10
Li Pigments (x3) Colours include: dark toffee, cappuccino, navarjo brown,7ml sizes
Venues:
Liverpool
SPAIN (nr Albox, Almeria) - supplement of £200