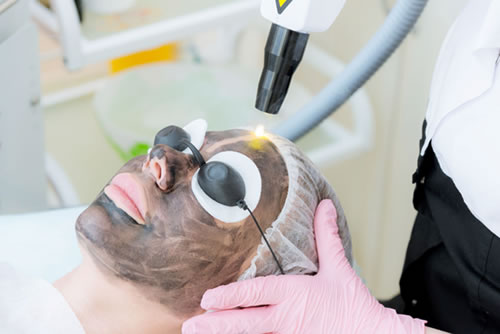 Cost: £530, including booking fee of £230
Pre-Requisites: IPL or Laser + Facial Qualification
Course Length: ½ day
What is Carbon Laser Facial?
Sometimes called Carbon Skin Rejuvenation, Carbon Skin Peel or Black Doll Facial. It is a non-invasive facial treatment combining laser technology and activated carbon.
The "Laser Facial" treatment described is a two-stage process which:
Freshens the complexion by removing the outer layers of dead skin cells from the client's face
Gradually reduces the skin's pore size and reduces the appearance of fine lines and wrinkles
Often Blackheads and Whiteheads are removed by this technique
There is no downtime for the client who can return to normal activities immediately after the treatment
Carbon paste is applied to the surface of the skin. The outer dead cells of the Epidermis will absorb the carbon, but deeper living cells of the skin will not absorb the paste
Using a special tip, the 1064nm wavelength of the laser will be absorbed by the Carbon which is vaporised by the Q-switched pulse along with the dead epithelial cells
The lining of open pores also reacts with the Carbon and often blackheads/ whiteheads are removed
The treatment has the immediate effect of a gentle laser peel. It can be carried out as a single treatment if the client is attending a special event, but client will see increased benefits with a course of treatments.
Course Content & Learning Outcomes:
What is Carbon Laser Facial
How it works
Client selection
Limitations to treatment
Contraindications
Client Consultation
Aftercare
Hygiene
Health & Safety
Code of Practice and Insurance
Relevant Anatomy & Physiology
Treatment

Set-up
Patch testing
Precautions
Recommended treatment regimen
Course Structure:
Home Study (5 guided learning hours)
½ day practical
3 case studies
Awarding Body: Cosmetic Insure
We can offer you links to cost effective machine
Venues: This course is available at:
Warwickshire (Welford on Avon)
SPAIN (nr Albox, Almeria)
If you have your own ND-Yag Machine, in-house can be offered