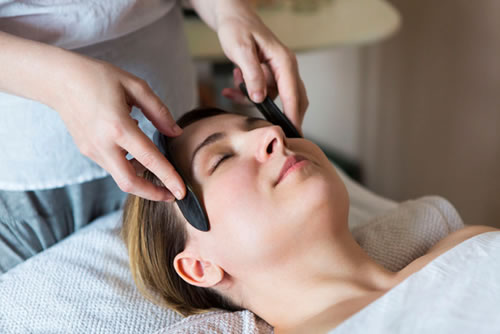 Cost: £290, including booking fee of £110
Pre-Requisites: None
Course Length: 1 day
What is Hot & Cold Stone Facial?
A treatment of the purest energies for mind, body and soul. We use a selection of Hot and Cold Basalt Stones together with warmed Himalayan Salt Stones to stimulate cell renewal, heal and re-energise the skin while promoting a feeling of wellbeing.
Course Content & Learning Outcomes
History of Hot Stones
Principles & benefits of the Hot & Cold Stones
Chakra and Meridian Systems
Your working environment
Code of practice and insurance for therapists
Consultation process including contra-indications
Contra-actions and aftercare advice
Looking after and using your Stones
Anatomy & Physiology
Hot & Cold Stone Facial Massage Therapy routine
Mini Hot & Cold Facial Massage which can be incorporated into Facial treatment
Course Structure:
Home Study (10 guided learning hours)
1 day practical
5 case studies to be completed before certification
Kit: A selection of Facial Hot Stones, Facial Cold Stones and Himalayan Salt Stones and a warming pad will be required after the course for this treatment. Information will be provided in your home study manual
Awarding Body: ThnkTree
Venues: This course is available via Live Classroom (Zoom) or face to face at the following venues:
Essex (Ongar)
Hampshire (Portsmouth)
Northern Ireland (Derry)
Nottinghamshire (Newark)
SPAIN (nr Albox, Almeria)
In-house training available
This course is also available on our online learning platform with Zoom observation at a cost of £275. For further information, This email address is being protected from spambots. You need JavaScript enabled to view it.