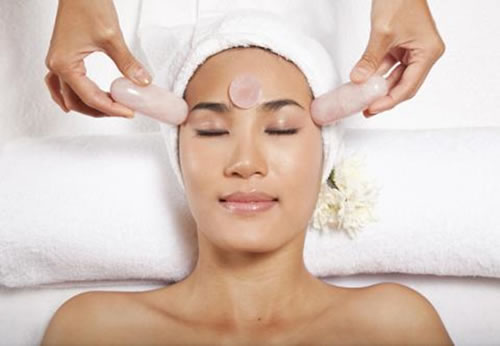 On this course you will learn how to perform a relaxing facial massage using a selection of Rose Quartz Crystals and Wands which are warmed, together with how to balance the Chakras with Crystal Gems & a Pendulum. You will also be show a mini crystal facial massage routine that can be incorporated into facials (if you are facially trained).
Cost: £310, including booking fee of £110
Pre-Requisites: None
Course Length: 1 day
What is a Rose Quartz Facial?
The Rose Quartz Facial is a treatment of the purest energies for mind, body and soul. We use rose essential oil, rosehip oil and rosewater to nourish the skin. We then combine facial massage with rose quartz crystal wands to stimulate cell renewal, heal and re-energise the skin while promoting a feeling of wellbeing.
Course Content & Learning Outcomes
History of Crystals
Principles & benefits of the Rose Quartz Facial Massage Therapy
Chakra and Meridian Systems
Equipment needed
Care for crystals
Consultations, contraindications, aftercare advice
Relevant anatomy & physiology
Risk assessment
Health & Safety
Professional ethics & standards of practice
How to set up a business
Marketing
This course is available on a face to face basis, or on our online learning platform with Zoom observation
Course Structure: Face to Face Training
Home Study (2 days guided learning hours)
1 day practical
3 case studies if already qualified in facials / 5 case studies if not qualified in facials
Kit: A selection of Rose Quartz crystals (palm stones, wands, tumble stones, Spheres, heart stones, pendulum) and a warming pad will be required after the course for this treatment. Information will be provided in your home study manual
Course Structure: On-line learning platform with Zoom observation
1-2 days of study, including exams
Treatment videos for you to watch and practice
Zoom observation of treatment
3 case studies if already qualified in facials / 5 case studies if not qualified in facials
Kit: A selection of Rose Quartz crystals (palm stones, wands, tumble stones, Spheres, heart stones, pendulum) and a warming pad will be required after the course for this treatment. Information will be provided in your home study manual
For more information on the online course with Zoom observation, CLICK HERE
Awarding Body: ThinkTree
CPD Points:15
Venues:
This course is available at:
SPAIN (nr Albox, Almeria)
In-house training available
Also available via our online lerning platform with Zoom observation: CLICK HERE FOR MORE INFORMATION