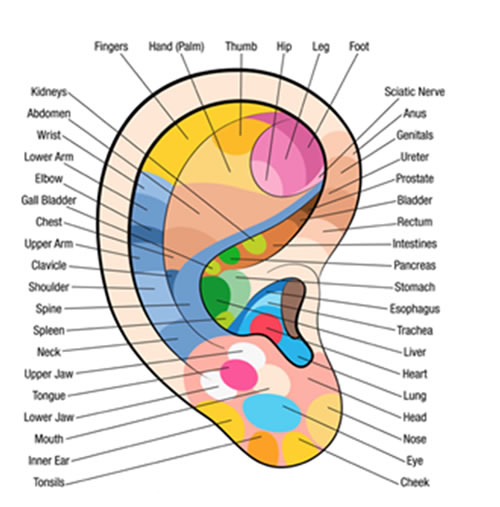 Cost: £270 ncluding booking fee of £110
Pre-Requisites: None
Course Length: 1 day
What is Ear Reflexology?
Ear Reflexology refers to physical stimulation of the reflex areas of the ears without the use of needles. The techniques used in ear reflexology are different to those used with the feet and hands, primarily because of the different size of the ears
Ear Reflexology is a simple and extremely efficient complementary therapy, primarily because the ears are easily accessible and people do not have to remove any clothing to receive treatment.
It can be used in all age groups (children to the elderly). Treatment is most beneficial when it is administered regularly, i.e. once or twice a week.
Course Content & Learning Outcomes:
History and Practice of Ear Reflexology
How it works
Ear Anatomy
Main Reflex Points
Instruments & Stimulation Techniques
Ear reading
Contraindications & Consultation
Hygiene, Health & Safety
Code of Practice & Insurance
Relevant Anatomy & Physiology
Treatment Protocol
Suggested Workouts
Key Points by Health Problems
Crystal Wands
Diagrams of Reflex Points
Course Structure:
Home Study (2 days guided learning hours)
1 day practical
5 case studies
Awarding Body: ABT & Towergate
Venues:
This course is available at:
Essex (Ongar)
SPAIN (nr Albox, Almeria)
In-house training available