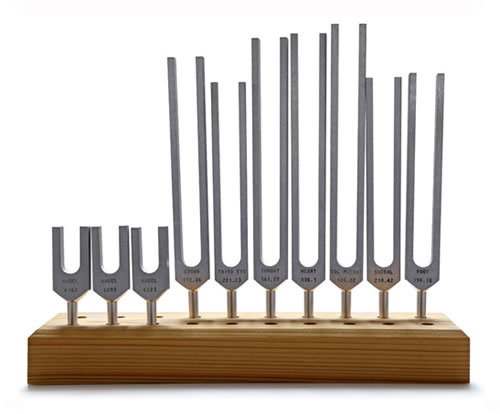 On this course you will learn how to perform Tibetan Acu-Sound Table Therapy using Singing Bowls, Tibetan Chimes and Tuning Forks on the Chakra System and major Acupressure points
Cost: £295 including booking fee of £115
Pre-Requisites: None
Course length: 1 day
What is Tibetan Acu-Sound Therapy?
It is the use of musical tuning forks in a non-invasive way to re-align and balance the body's natural energy fields and to help clear energetic blockages. Harmonic sound, both audible and vibrational can locate and resolve energetic disharmony. This supports self healing and is complementary to other therapeutic measures. It is a gentle and enjoyable method and is opening up fascinating new areas of subtle work.
Sound Therapy can be used to help any illness or ailment - physical or emotional, as it works at a fundamental energetic level. This treatment is non-invasive as it is applied through clothes and therefore can be performed anywhere.
Course Content & Learning Outcomes:
History and benefits of Tibetan Sound Healing
Chakra, Meridian and Aura Systems
Your working environment
Code of practice & insurance for therapists
Consultation including contraindications
Contra-actions/ aftercare advice
How to use Singing Bowls, Tibetan Chimes and Tuning Forks
Marketing advice
Anatomy & physiology for this treatment
Seated Tibetan Acu-Sound Therapy™ routine
Course Structure:
Home Study (2 days guided learning)
1 day practical
3 case studies
Awarding Body: ThinkTree
Venues:
This course can be done online via Live Zoom or at the following venues:
This course is available at:
Essex (Ongar)
SPAIN (nr Albox, Almeria)
In-house training available