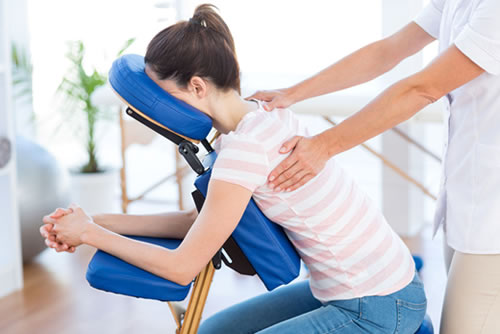 Cost: £295, including booking fee of £105
Pre-Requisites: None
Course Length: 1 day
What is Indian Head Massage?
Indian Head Massage is based on traditional Indian massage techniques that have been practiced in Indiana for about 1,000 years. The Hindi word for massage is "Champ ied" which means to wash the hair (shampoo) and this is where the work shampoo originates from. It began as a way to keep long hair beautiful and good condition by stimulating blood flow to the scalp thereby nourishing the hair roots. Originally it was exclusively a massage of the head and hair follicles only, but over time it has developed to incorporate massage to the face, scalp, neck, neck, shoulders, upper arms and upper back. Over time hairdressers and barbers began to offer Indian head massage to both their male and female customers as it complimented their main service. The popularity of champissage (massage) has continued to grow to the point that it is now widely available as service throughout the world (especially the UK) and not just in India.
Course Content & Learning Outcomes:
History and benefits of Indian Head Massage
The use of Oil
Chakra Energies
Marma Points
Consultation including contraindications

Contra-actions
Aftercare Advice

Anatomy & physiology for this treatment
Indian Head Massage Therapy routine
Risk Assessments
Safety & Hygiene
Health & Safety Regulations
Professional Ethics & Standards of Practice
Business Practices

Business plans
Treatment costings
Insurance, Complaints & Malpractice
Registering & running your business
Legislation
Marketing & PR
Record keeping
Cancellations

General Tips (e.g. how to review products, selling skills, tips to getting more traffic, marketing tips etc)
Course Structure:
Home Study (1-day guided learning)
1 day practical
5 Case Studies
Awarding Body: ThinkTree
CPD Points: 10
Venues:
This course is available at:
Essex (Ongar)
Hampshire (Portsmouth)
Northern Ireland (Derry)
Nottinghamshire (Newark)
Wales (Bangor & Cardiff)
West Midlands (Tamworth)
Yorkshire (Halifax)
SPAIN (nr Albox, Almeria)
In-house training available