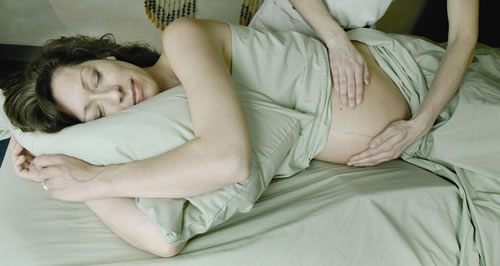 The course aims to enable you to adapt your usual massage routine to working with pregnant clients after the first trimester and extend your knowledge of pre and post-natal and pregnancy.
Cost: £295 including booking fee of £105
Pre-Requisites: A&P Level 3 & Body Massage
What is Pregnancy Massage?
Pregnancy massage is massage therapy specifically tailored for the expectant mother's needs. It is also called pre-natal.
During pregnancy the body changes faster than at any other time; it can be a wonderful time in a woman's life but can bring its problems. It is a great time to have a massage and this can be hugely beneficial for the mum-to-be. However, every woman is different and every pregnancy is different so you must take this into account as her therapist. As soon as she knows she is pregnant you can start to help your client stay drug free during pregnancy. Pregnancy massage has been found to reduce stress, decrease swelling in the arms and legs, and relieve aches and pains in muscles and joints. It's a popular complementary therapy during pregnancy for back pain, when choices for pain relief, such as medication, are often limited.
Not only can massage be physically beneficial, but the human touch can be comforting and provide emotional support during pregnancy.
Course Content & Learning Outcomes:
Benefits of Pregnancy massage
The Changing Body (by trimester and all the changes in the various body systems)
Clinical Implications/Observations (including possible causes of pain, bleeding and impact on various body systems)
Development of foetus by trimester
Consultation process including contraindications
Relevant Anatomy & Physiology
Postural Assessment
Positioning, Draping & Equipment
Massage movements & Medium
Resources
Treatment routine
Risk Assessments
Safety & Hygiene
Health & Safety Regulations
Professional Ethics & Standards of Practice
Business Practices

Business plans
Treatment costings
Insurance, Complaints & Malpractice
Registering & running your business
Legislation
Marketing & PR
Record keeping
Cancellations

General Tips (e.g. how to review products, selling skills, tips to getting more traffic, marketing tips etc)
Course Structure:
Home Study (2 days guided learning)
½ day practical
2 Case Studies
Awarding Body: ThinkTree
CPD Points: 10
Venues:
This course is available at:
our online training platform
Essex (Ongar)
Hampshire (Portsmouth)
Wales (Bangor & Cardiff)
West Yorkshire (Halifax)
SPAIN (nr Albox, Almeria)
In-house training available